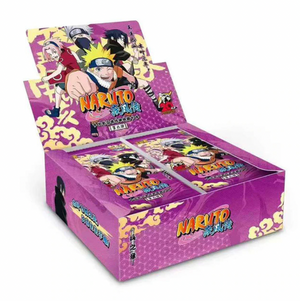 Kayou Naruto Cards Genin Box (Tier 2 Wave 6)
               Tier 2 Wave 6 "Team 7 Box"
The highly popular anime "Naruto" genuine authorized card is here! Brilliant cards show the  history of Shinobi, the combination of ninjutsu, physique, and illusion, the conflict between the ninja villages and Akatsuki, showcasing the big players like Naruto Uzamaki, Sasuke and Itachi Uchiha , the Legendary Sanin all the way to Gamakichi!
Start collecting today! Some of the most well done , Aesthetic masterpieces ever made! 
Includes: One T2W6 Booster Box (30 Packs)
--------------------------------------------------------------------------
TIER 2
Tier 2 boxes come with 30 of the 2 yuan booster packs. Every tier 2 pack comes with four R-rarity cards and one SR or higher.
Starting in wave 4 these packs have the chance of pulling ZR kayou cards. In wave 2 and up there's a chance at the CR rarity.
Full Naruto Card List
WHAT ARE THE KAYOU NARUTO CARD RARITIES?
Kayou Naruto Card rarity tier list in ranked order from least to most rare:
* Bold indicates tier-exclusive. 
Promotional type rares included in certain products: